Can I get an email or text alert whenever I receive a new online order?
Yes, you can enable email and text alerts through the SKU IQ dashboard, under the Settings menu. You can be notified when:
An item becomes low or out of stock.
An order is made on your eCommerce platform.
A new team member is added as a SKU IQ user.
Your POS or eCommerce platform loses connection with SKU IQ.
To enable alerts, click Settings in the left navigation menu, scroll down to the Notifications section, and then select the checkboxes for which alerts you'd like to receive.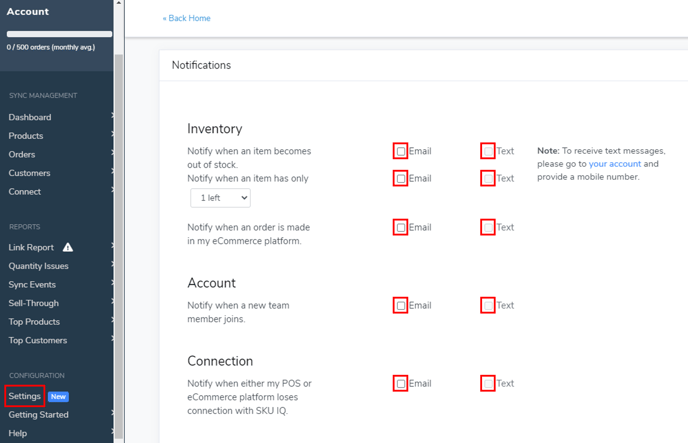 Note: You must provide a mobile contact phone number in your SKU IQ account in order to receive text alerts. You can access your account settings by clicking on your email address in the SKU IQ dashboard and then clicking Account.
If you are using Clover, you must enable stock tracking in Clover for SKU IQ to be able to notify you of any stock outages on the Settings page.