This article will show you how to connect your TikTok Shop and Shopify to SKU IQ to sync your orders!
Overview
Once you've set up your TikTok Shop account to send and receive orders and have set up Shopify to track inventory for the item's you would like to sell on TikTok Shop and have a physical warehouse location (that matches TikTok Shop!) you're ready to get connected to SKU IQ!
What you need to get started with TikTok Shop, Shopify & SKU IQ
In order to get the most out of SKU IQ, you'll need a TikTok Shop account and a Shopify account. It's okay if you're still working on your website. As long as you have some product on your Shopify you'd like to sell, we can help you get started with TikTok Shop!
At this time, we are unable to sync TikTok Shop, Shopify and a Point of Sale, but we're working on getting that functionality available soon! As that is the case, current SKU IQ merchants are unable to participate in this pilot program. You can get on the waitlist for TikTok Shop though!
Signing up for your SKU IQ Account
There are two ways to sign up for your SKU IQ account at the moment.
1) You can start the sign up through our TikTok Shop page
2) You can start through the TikTok Shop Seller Center's Service Market
Sign Up Method 1
1. From the SKU IQ TikTok Shop page, click "For Existing TikTok Shops: Start 30 Day Free Trial Now"
2. This will take you over to TikTok Shop. You may need to login to continue.
3. One you have logged in, you will be asked to select your account type to start the authorization process with TikTok Shop.
a. Click on North America seller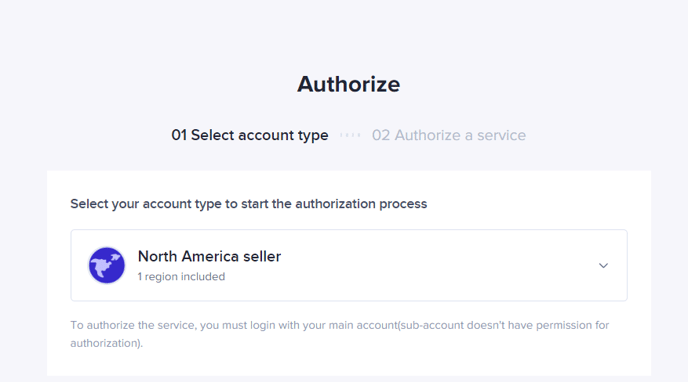 b. Click Next on the United States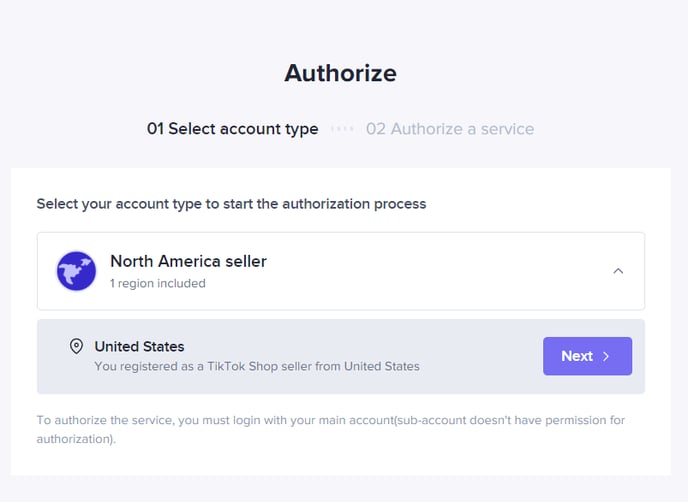 4. This will take you to the TikTok Shop Seller Center where you can connect SKU IQ directly!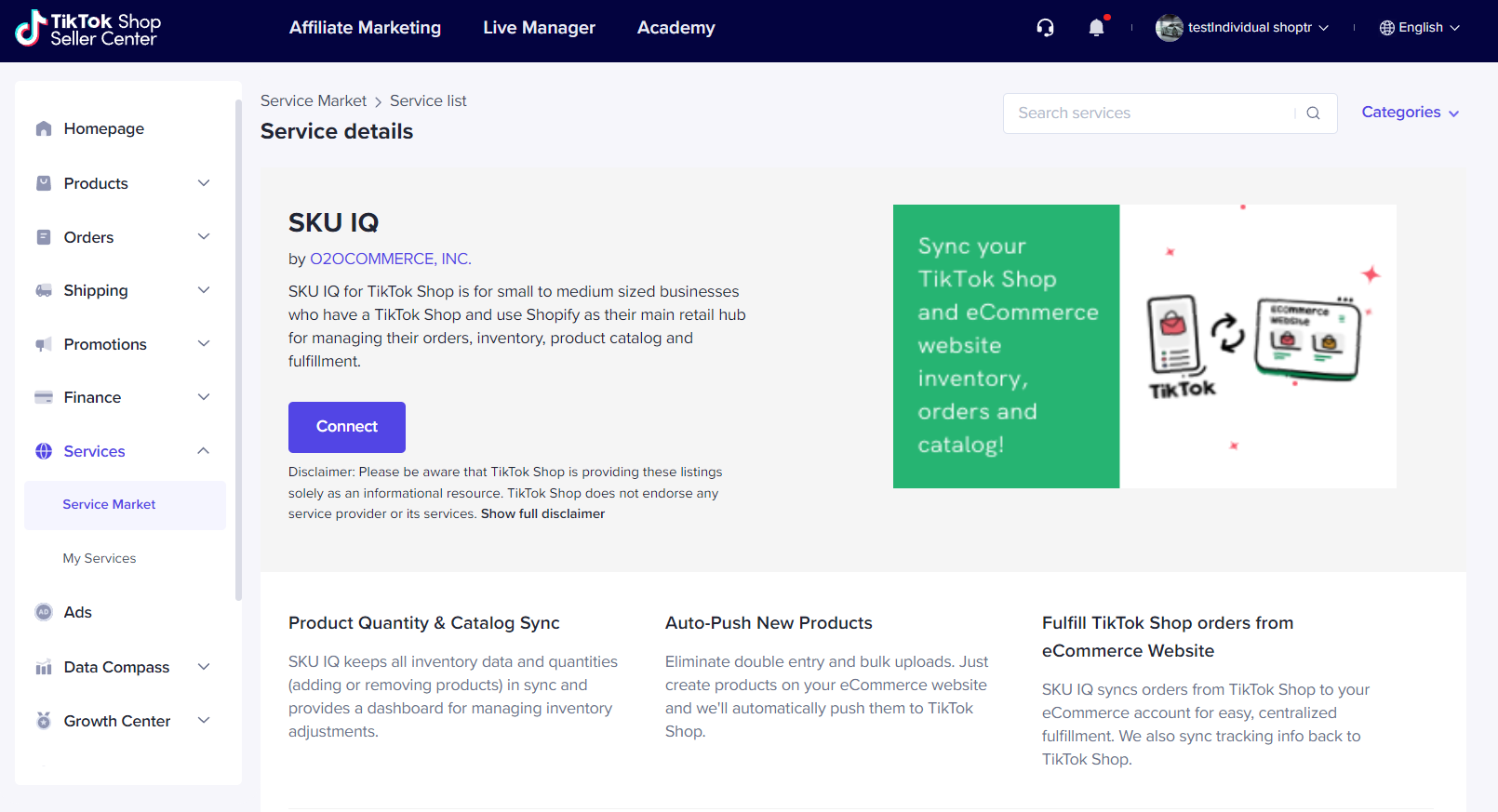 5. Clicking "Connect" will take you through registration. Skip to Registration
Sign Up Method 2
1. From the TikTok Shop Seller Center, click on Services on the left hand side navigation panel. This will open the Services Menu. Then click on Service Market.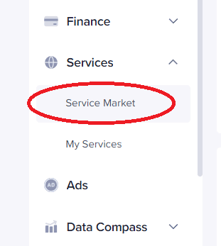 2. To pull up SKU IQ, either use the Search function by typing in "SKU IQ" or click on the category "Multi-Channel Management"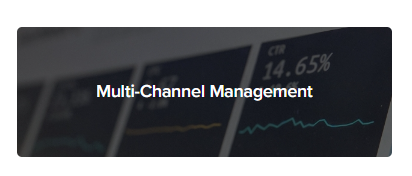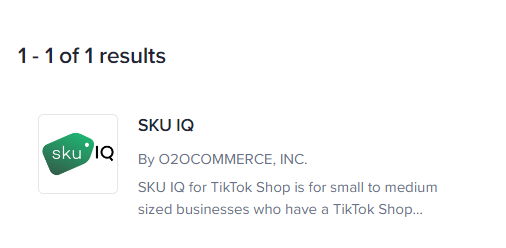 3. You'll see SKU IQ as your result. Click on SKU IQ, then click on the blue Connect button, this will take you to registration. Skip to registration.
Registration
Once you click the blue Connect button on the TikTok Shop Services Market, you'll be prompted to start your registration for SKU IQ! The first step is you need to generate an authorization token from TikTok Shop for SKU IQ to use to connect to your store. That may sound complicated, but it's very easy to do!
1. After clicking the blue Connect button, a popup will come up asking for you to Authorize SKU IQ.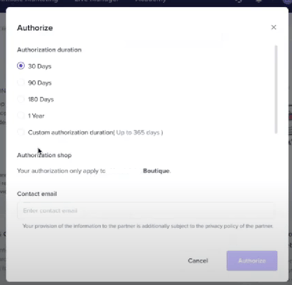 🚨 Make sure you authorize SKU IQ for 1 year, otherwise you will need to reauthorize during the year.
Why do you have to pick a duration for SKU IQ's authorization to access TikTok Shop?

This is a security feature that TikTok Shop has enabled! We recommend picking the maximum amount of time (365 days/1 year) so that you don't have to authorize again within the year.
2. Pick 1 Year for the duration of the authorization.
3. Enter your email address that you use for TikTok Shop.
4. You can skip the Phone Number - that part is optional - though you are welcome to fill that part out if you wish.

5. The next part will ask you to Authorize the connection to SKU IQ and give you some information on what SKU IQ will look at and do with your TikTok Shop. Please read this information carefully and when you are finished and agree to the terms and conditions, please check the checkbox. You will then notice the Authorize button will highlight and you will be able to proceed to the next step.
6. Once you have clicked Authorize, you will be taken to the SKU IQ registration page. This information is used to create your SKU IQ account.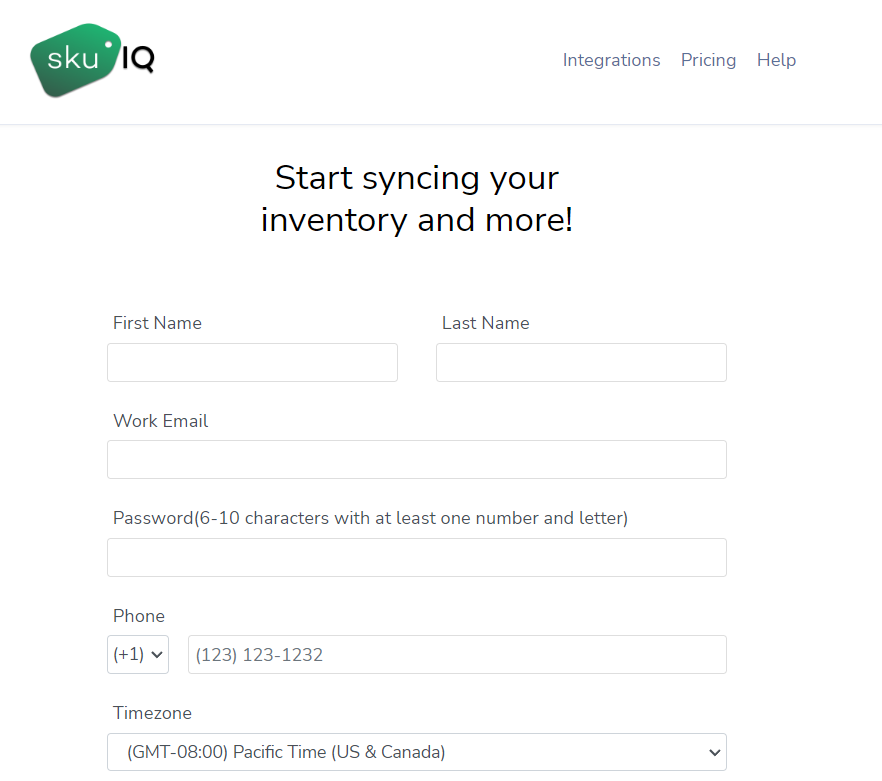 🚨 Note: When you are registering for TikTok Shop, you will notice that the options for Point of Sale and eCommerce are grayed out and are pre-selected to be TikTok Shop and Shopify.
It is important to enter a valid email address when registering for SKU IQ as we will send a verification email to you before you can continue on to your dashboard.
7. Once you have finished filling out the registration form and verified you aren't a robot, click on the Start Your Free Trial button. This will complete the registration for your account and a verification email will be sent to you.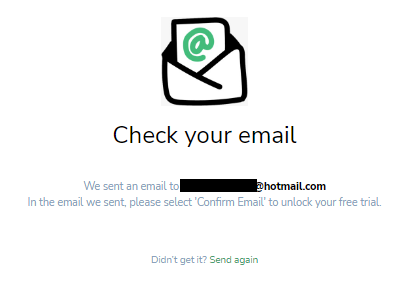 8. Check your email for your verification email. If it has not reached your inbox within 20 minutes, please check your Spam folder. If it is not there, please reach out to support for assistance.
9. When you get your email, please click on Confirm Email to continue your setup.
💡 Some email platforms do not like our SKU IQ green and will not display the button. There will be a link below the button you can click to continue.
10. Once you have confirmed your email, you'll be brought in to the TikTok Shop Setup Wizard.
Connecting TikTok Shop & Shopify to SKU IQ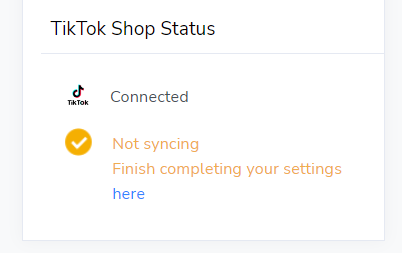 💡 Tip: If at any point you cancel out of the Wizard and need to get back to it, you'll see this on your TikTok Shop Status on the home page of your dashboard. Simply click "here" to resume where you left off.
Once you've confirmed your email, you'll be brought into the TikTok Shop Setup Wizard!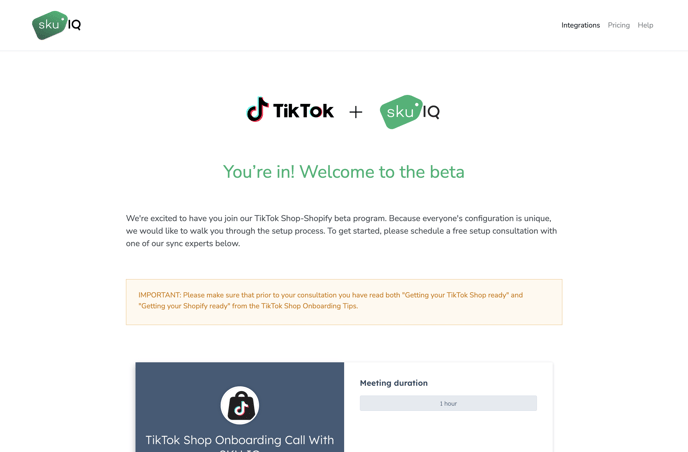 You'll be prompted on the first page to schedule an onboarding call with our product experts if you wish. You do not have to do this if you feel comfortable trying on your own. If you wish to schedule, use the calendar to do so. If you do not wish to schedule, check the checkbox at the bottom and you will be able to continue as the "Connect and Sync Now" button will highlight.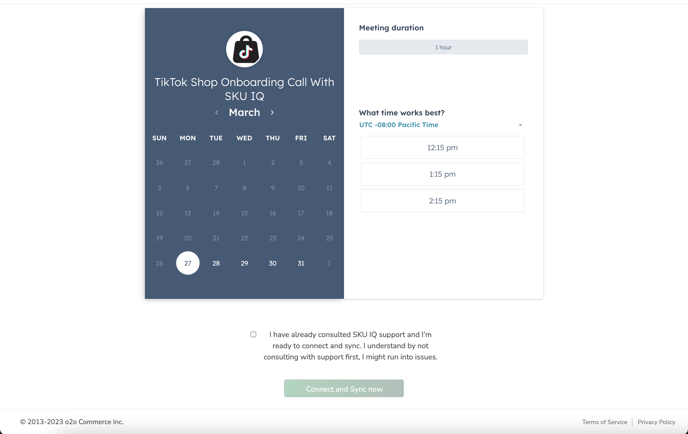 1. Click Start Setup

2. You will be asked to Connect your Shopify account. If you need help finding your myshopify URL, check out this video.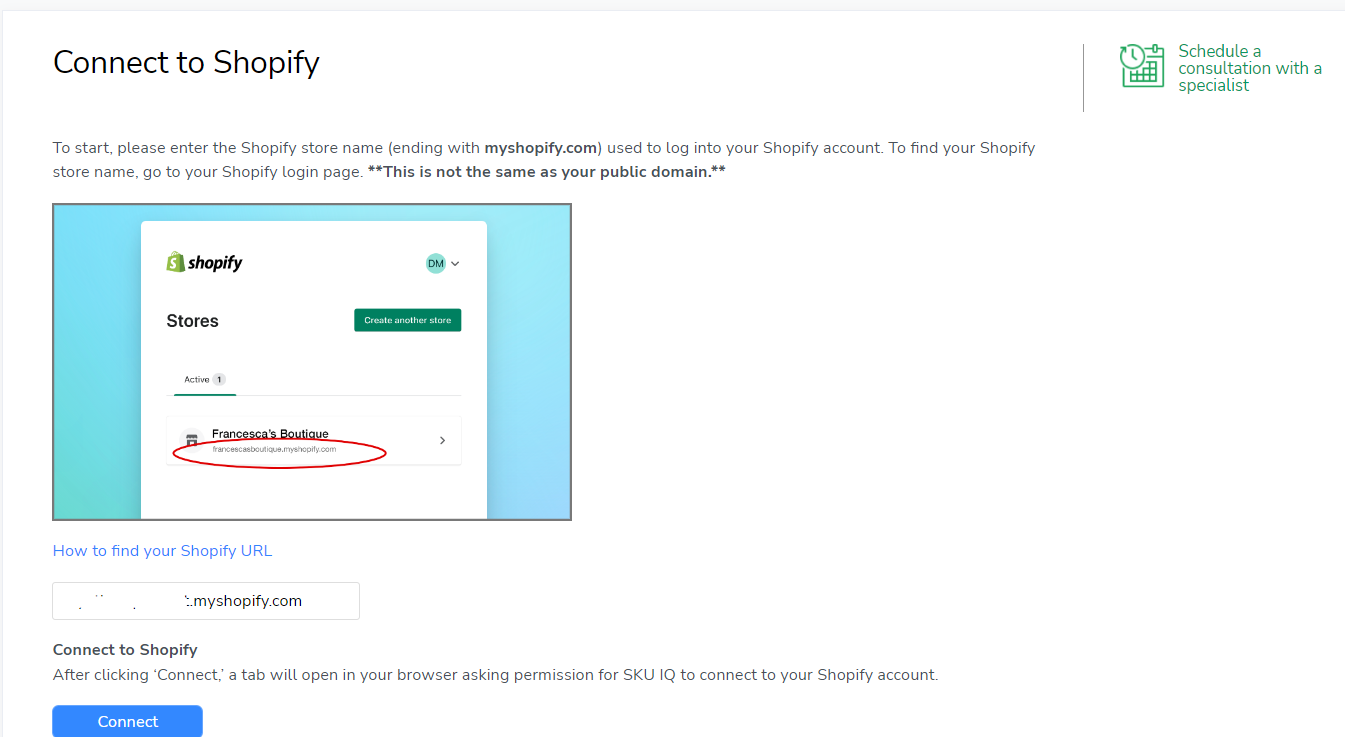 3. Once you have input your myshopify URL into the provided textbox, click the blue connect button. This will take you to Shopify to authorize the connection to SKU IQ.
If you are not currently logged into your Shopify account, please make sure you are logging in to an Admin account for your Shopify store. For Shopify+ Enterprise customers, you will need to be on the OWNER account.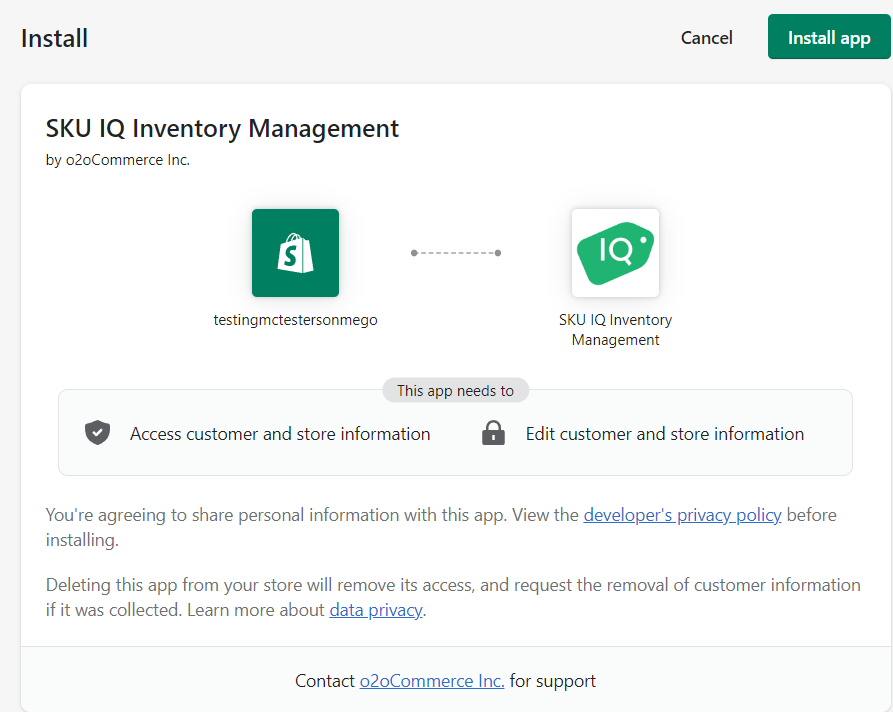 You may get a warning that your Shopify is already connected to SKU IQ. If you do - you currently have a SKU IQ account. If you are not actively using that account, please contact Support so that we can rectify this. We are unable to connect your Point of Sale, Shopify, and TikTok Shop at this time.
4. Once you have connected Shopify and SKU IQ, you will be prompted to continue the setup.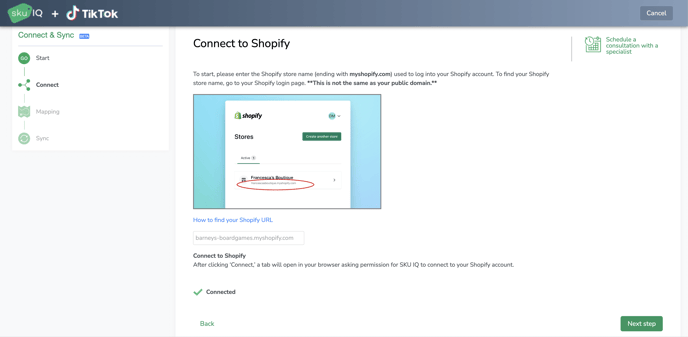 5. Click the Next step button (as seen above).
6. Inventory Analysis is the next step. This step will take a look at your inventory on Shopify and take account of ANY AND ALL INVENTORY. This includes inventory that is in draft status, archived inventory, AND active inventory.
☀️ This Step May Take Some Time! ☀️
Depending on how many pieces of inventory you have, this step can take anywhere from a few minutes to several hours. If you know you have more than 1000 different SKUs on Shopify, you should come back to the wizard after a while. There is currently not a way to skip this step.
Note: You do not have to keep your browser window open, as SKU IQ performs this task in the background. If you navigate away from the onboarding wizard page, that is okay. You can resume where you left off by going to your SKU IQ dashboard and clicking on the blue here under your TikTok Shop status: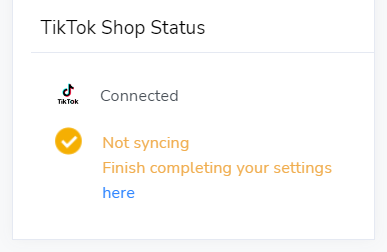 6. The next screen will give you a bit of information about uploading products to TikTok Shop.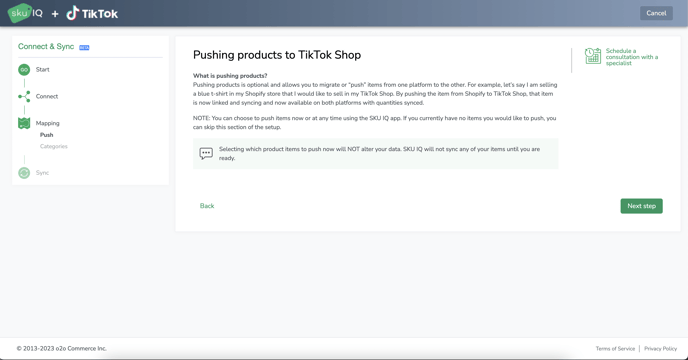 Once you've finished reading this page, click the Next step button.
7. You can choose which products you would like to send to TikTok Shop on this page (or you can do this later using the uploading methods described in this knowledge base article). If you do not pick anything here, do not worry - but you may need to contact Support if you do not see any items on your products page after you have finished the setup.

8. Once you've selected any products you want to send to TikTok Shop (if any), click the button at the bottom to continue!
9. You'll be taken to this page next. Once you've finished reading, click on Next step to continue.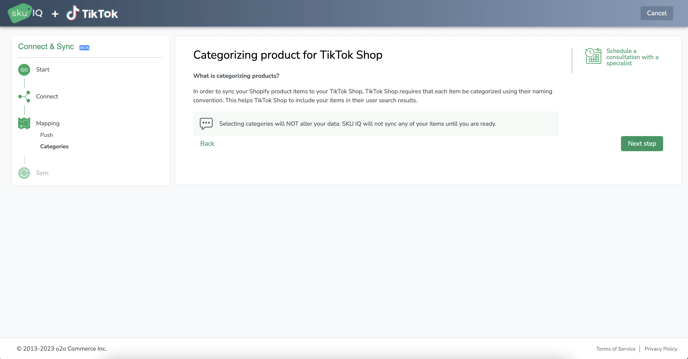 10. The next page will allow you to pick categories!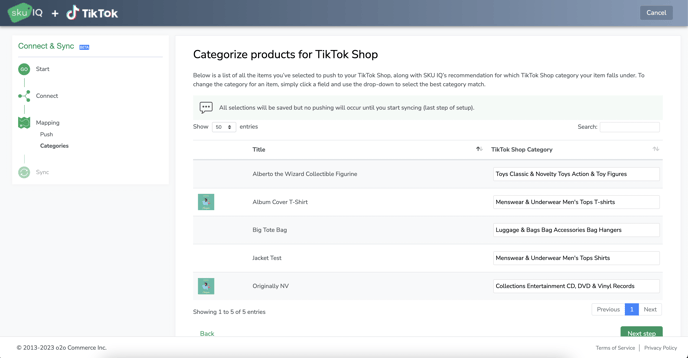 Some merchants may find using our UI to be a little more difficult than using the TikTok Shop Seller Center UI. We are working to improve the UI, but if you need to, you can leave the categories as is and change them on the TikTok Shop Seller Center while your item is still in the review process. Once you're done picking categories, click the Next step button.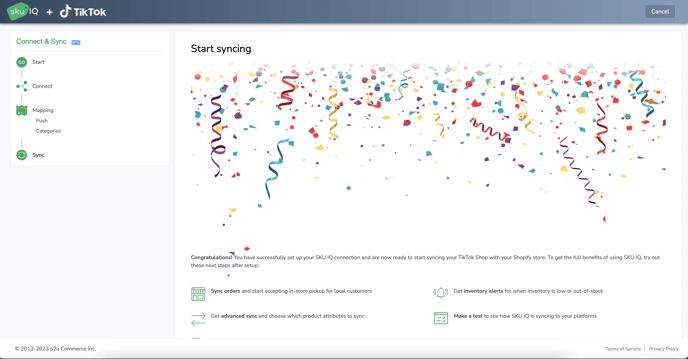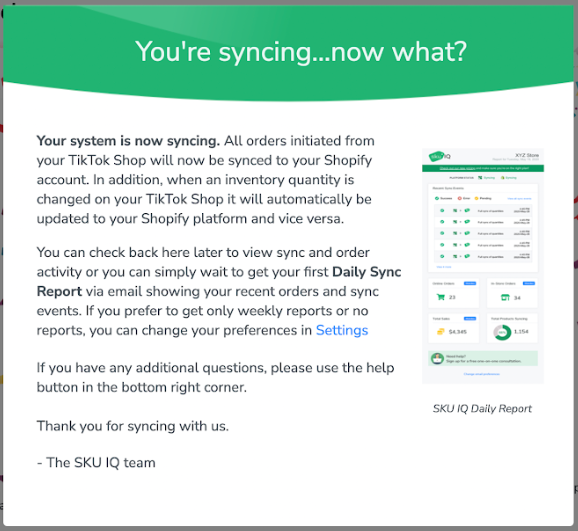 11. Tada! You are now down with the initial setup of your TikTok Shop and Shopify and connecting them to SKU IQ! As long as you have setup your TikTok Shop and Shopify correctly (see this article for more details if you haven't done these parts yet), your TikTok Shop orders will transfer to Shopify so that you can fulfill them as you always have.
Take a look at the section below for some important notes.
Important Notes
Your items, once uploaded to TikTok Shop, will go into a review process. Some categories take longer than others to gain approval before they'll be active/live on your TikTok Shop. Any product that is in the review process will have the Suspended flag on them. Active items will have the Active flag and items you have taken offline will have the Inactive flag.
The item review process can take anywhere from a few minutes to 2 business days, depending on the category.
Some items may be rejected by TikTok shop for a variety of reasons. There is an appeal process that you can start from your Products page on the TikTok Shop Seller Center if needed.
Some products (like electronics, food items, children's products, fine jewelry, etc.) may require additional documentation that you will need to upload on your TikTok Shop Seller Center before the item will be approved. These bits of documentation can include the user manual (.PDF), safety warnings (off of the packaging), pictures of the packaging itself, or information about stamping and product quality testing (jewelry).
There are several restricted and prohibited categories. You should take a look at this knowledge base article for information on these categories.
If your TikTok Shop orders come into the SKU IQ orders page with asterisks in them, you have set up your shipping options on TikTok Shop improperly. Please check your settings against our guide here. If you do not have your shipping settings set to Ship by Seller, your orders will not transfer to Shopify.
If you are using a Third Party Logistics company like Fulfilled by Amazon, please make sure that you have contacted support prior to connecting to SKU IQ so that we can assist during your setup. Using a 3PL provider requires special setup.
If you have further questions in regard to TikTok Shop, Shopify, and/or SKU IQ, please reach out to us at support@skuiq.com or chat with us Monday through Friday from 8AM to 4PM Mountain Time.